Institution practices a policy of decentralization of authority for efficient look over, maintenance and best utilization of its available resources. The following initiatives are taken to implement the policy.
i. The Institution has a building construction and maintenance committee to supervise the new construction and extensions needed from time to time and also for the overall infrastructural maintenance of the college.
ii. The college has different committees which are made to look after the maintenance of garden, physical infrastructure, Internet and Wi-Fi facility, cycle stand, canteen, parking zone, hostel facilities, sports maintenance and expansion and for library facilities etc.
iii. For the maintenance and repair of computers, the college takes assistance of special technical Experts.
iv. Electrification and water supply system of the institution is being regularly monitored and maintained.
v. Professor in charges deployed to look after the maintenance and repair of the physical infrastructure of the college like Gardens, canteen, sports ground, library, RO water filter maintenance, toilet, girls common room, gymnasium etc.
Mahatma Gandhi Block

Mother Teresa Block
Abdul Kalam Block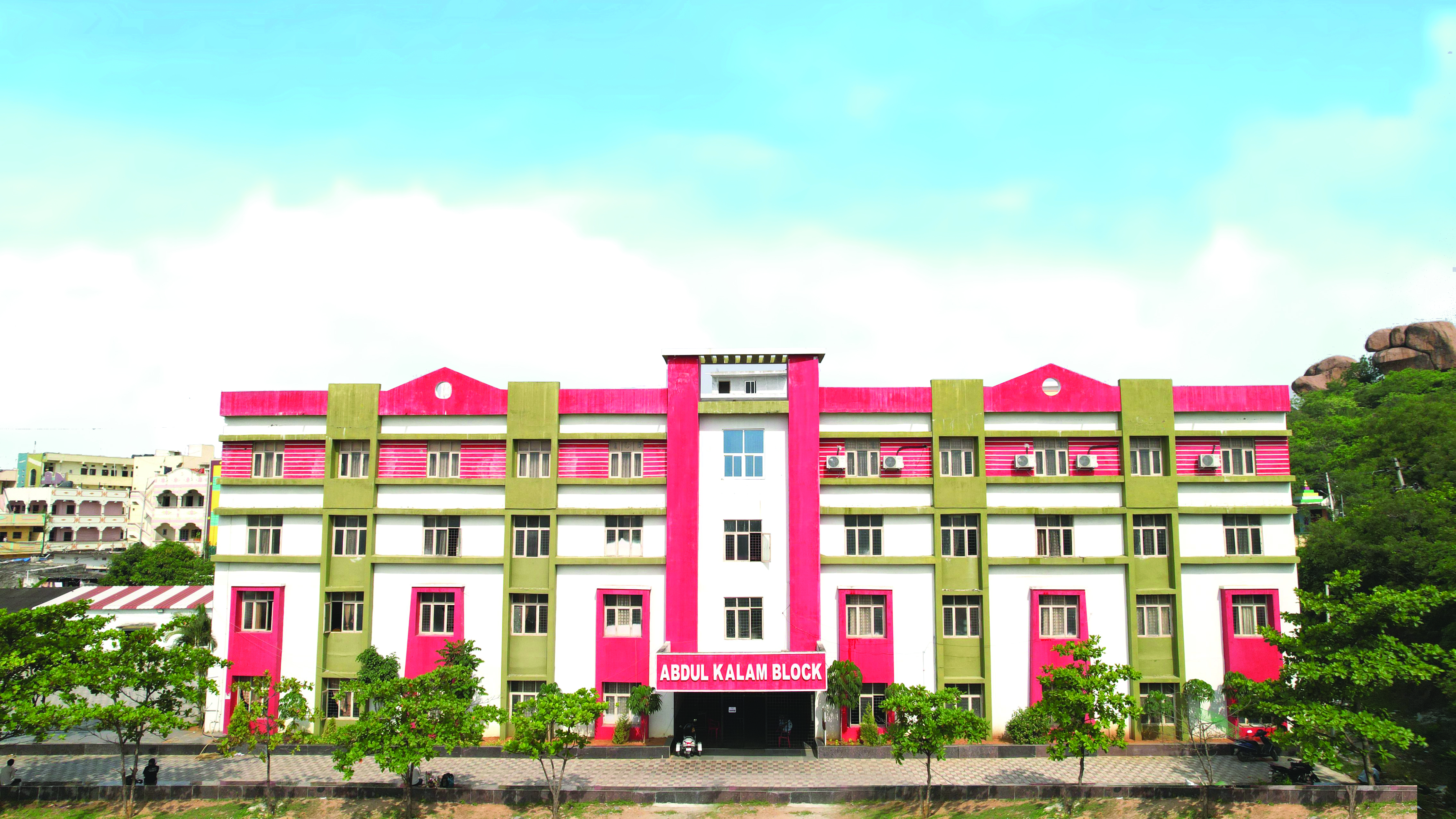 E-CLASS ROOMS:
Narsimha Reddy College provides quality in education it is an essential requisite in today's competitive environment. Technology has affected us in every aspect. Smart classes as a modernized method of education which provides quality education to students by helping them in better concept formation, concept elaboration, improvement in reading skills and academic achievement. Each class in the college includes, PPT's and more, all displayed through a data projector. This makes learning an enjoyable experience for the students while improving their overall academic performance in the college
Class Rooms
INTERNET FACILITY:
Narsimha Reddy engineering college provide Internet facilities available through leased line and Wi-Fi for providing continues and uninterrupted facility for the student and staff members .This facility are also available for the students after college hours for projects and seminars and research-oriented work. The entire campus including the hostel is Wi-Fi enabled and student s can access the internet.
BANK:
The CANARA BANK has fully fledged branch with core banking network ATM and Internet banking facilities nearby college campus. It offers all types of banking facilities to the students and staff members. It functions 6 days per week and 24 hours ATM service.

IFSC: CNRB0006773
MRIT College Road, Maisammaguda,
Dulapally, Hyderabad, Telangana 500043
ATM:
Our Institution also provides 24-hours DHANLAXMI ATM facility for students and staff. Hostel students are able to use the atm at any time within the campus premises.
RO WATER :
The Institution has to provide drinking water to the college and hostel. Hot Water is also made available round the clock for hostel students. The entire college campus is facilitated with pure Reverse Osmosis (RO) drinking water with water coolers in every block to cater to the need of pure and safe drinking water to all. A high level of maintenance attention and regular testing ensure the quality of the water.

COMMON AREAS FOR BOYS AND GIRLS:
Narsimha Reddy Engineering College have separate Boy's and Girl's common room of 20 to 30 strength with proper sitting facility. The common rooms are provided with good lightening system, fan, chairs, tables, and water facility. The common rooms are also having toilet facility. The common rooms are being used in recess time and at the emergency time.

HEALTH CENTRE:
The Health Centre here at Narsimha Reddy Engineering College is well equipped. The centre provided regular and emergency treatment to the patients round the Clock .The Health Centre offers free medical treatment to students, and staff. Staff and students receive only out-patient treatment at this Centre. Doctor is available all times.

Services available:
-Out patients consultation and treatment
-First Aid
-Free service to all the students, teaching staff, and Non-teaching staff.
PARKING:
Parking is an important facility for most colleges and it has an enormous impact on the day-to-day lives of students, faculty and staff, particularly those who commute. Narsimha Reddy Engineering college campus has three different parking areas for students, Faculty and staff and visitors and gusts. Parking facility is available on all working days between 9 AM to 5 PM. Security people provide security for the vehicles. Consequently, signs primarily designate where you are allowed to park, rather than where you may not park.

Power Backup at Computer Center:
Uninterruptible Power System (UPS) – 120 KVA Diesel Green Generator Set

Internet Facility Internet lab is operational with 60 desktop computers. This facility is central facility and is available for students and staff members of the college. Internet facility is available through broadband 50 Mbps Sify wireless Connectivity and BSNL. This provides single hop access to internet gateway Sify hub. Campus LAN is extended to all departments, including administrative building using 1.5 Km long fiber optic back bone.

Documentation Facility: The Computer Centre also houses the Printers, Scanners etc for the purposes of documentation, printing, scanning and backup.